Interview with Director of World BEYOND War
Date: 4/24/2020 9:03:30 PM
Interview with Director of World BEYOND War
PGSC: Thank you, Dr. David Swanson, Director of the Institute of the World BEYOND War, for giving us time to interview.
PGSC: Your institution has done valuable work for peace and ceasing war in the world, if it is possible, tell us a summary of the World beyond War's international activities to familiarize us with your institute.
HERE ARE SOME BASICS:
World BEYOND War is a global nonviolent movement to end war and establish a just and sustainable peace.
We aim to create awareness of popular support for ending war and to further develop that support. We work to advance the idea of not just preventing any particular war but abolishing the entire institution.
We strive to replace a culture of war with one of peace in which nonviolent means of conflict resolution take the place of bloodshed.
World BEYOND War was begun January 1, 2014.
While public opinion has moved against war, we intend to seize this moment to crystallize that opinion into a movement that spreads awareness that war can be ended, that its ending is hugely popular, that war should be ended as it endangers rather than protects — and harms rather than benefits — and that there are steps we can and must take to move toward war's reduction and abolition.
War is not ending on its own. It is being confronted by popular resistance. But too often that resistance takes the form of denouncing one war as unacceptable (in contrast to theoretical good wars), or opposing a war because it leaves a military ill-prepared for other wars, or rejecting a weapon or a tactic as less proper than others, or opposing wasteful military spending in favor of greater efficiency (as if the entire enterprise were not an economic waste and a moral abomination). Our goal is to support steps away from war and to spread understanding of them as just that — steps in the direction of war's elimination.
We are building something truly international, connecting people and organizations, and adding support to antiwar endeavors of all kinds around the world. This is a global campaign of education, lobbying, and nonviolent direct action.
Here are quotes from some people involved.
WE HAVE USED EDUCATION AND ACTIVISM TO BUILD UP MEMBERS AND CHAPTERS AROUND THE WORLD, AS WELL AS AFFILIATES AND ALLIANCES. PEOPLE HAVE SIGNED OUR DECLARATION OF PEACE IN OVER 170 COUNTRIES. WE'VE BEGUN BIG CAMPAIGNS TO CLOSE FOREIGN BASES AND TO DIVEST MONEY FROM WEAPONS. WE'VE ALSO OF COURSE WORKED TO END AND PREVENT PARTICULAR WARS AND TO CORRECT WAR PROPAGANDA ABOUT POTENTIAL TARGETS, INCLUDING IRAN.
PGSC: If it is possible to establish a branch in Iran, do you desire to establish an office in the Middle East, which was a center of international conflicts and catastrophe wars during the past decades?
YES VERY MUCH SO. WE HAVE TO BEGIN WITH VOLUNTEERS, AND HIRE STAFF AS WE RAISE THE MONEY TO DO SO. WE WOULD LIKE TO SIGN UP MORE IRANIAN SUPPORTERS AT: https://worldbeyondwar.org/INDIVIDUAL/
AND COMMUNICATE WITH THEM. WE'D LIKE TO EXCHANGE MESSAGES OF PEACE, JOINTLY ADVOCATE FOR PEACE AND AN END TO SANCTIONS, CREATE LIVE ONLINE VIDEO DISCUSSIONS BETWEEN IRANIANS AND AMERICANS WHO WANT PEACE, AND LEARN MORE IRANIAN VIEWPOINTS.
PGSC: As you know, Donald Trump, passed the anti-immigration law, he banned Muslims to entering the United States, even sanctioned countries that opposed the American views, and imposed their nations on economic pressure, with world powers such as China and even America's friends entered to the economic tariff war, were withdrawn from important international treaties and protocols such as JCPOA, Paris, UNESCO, the UN Commission on Human Rights, etc. As President of the great and important country publicly expresses his racist ideas, strongly supports from totalitarian, non-popular and backward regimes in Middle East, supports the erosive and devastating wars of Syria and Yemen, which are famous on bloody wars of the century, and sells to a regime that has not even experienced a simple election in its history, like Saudi Arabia, a bunch of advanced weapons. Impose new wars on weaker nations! According to a survey by ABC NEWS, 66% of US women are opposed to trump, and Washington Post's poll shows that the popularity of Trumps in the United States has dropped to 36% an unprecedented. With this distinction, with such a president like Donald Trump, how can the United States defend its slogans such as human rights, peace, and democracy?
HYPOCRITICALLY. HERE IS A BOOK name: "Curing Exceptionalism: What's wrong with how we think about the United States? What can we do about it?" I WROTE ABOUT THIS HTTP://DAVIDSWANSON.ORG/CURINGEXCEPTIONALISM
In the introduction to this book we read: — U.S. exceptionalism, the idea that the United States of America is superior to other nations, is no more fact-based and no less harmful than racism, sexism, and other forms of bigotry. The purpose of this book is to persuade you of that statement. This book examines how the United States actually compares with other countries, how people think about the comparison, what damage that thinking does, and what changes we might want to consider making.
PGSC: Undoubtedly, the Yemeni war is a human tragedy that killed more than 15,000 people and about 2 million children have malnutrition problems, and half a million people are on the brink of dying. More than 9 million Yemeni citizens are at risk of hunger because of the siege by Saudi Arabia, the UAE and Egypt. Has your institution also taken action on this human disaster?
YES.
Yemen is facing the worst humanitarian catastrophe on earth. We're building pressure on the U.S. Congress to stop creating and worsening the disaster.
A bill now gaining support will force a vote to end U.S. participation in the war on Yemen.
Click here to email your Congress Member to tell them to support the War Powers Resolution to end U.S. participation in the U.S.-Saudi-Al-Qaeda war on Yemen.
U.S. weapons, targeting, and refueling are crucial to the Saudi war effort. Removing U.S. participation would severely limit Saudi attacks and maybe even end the war.
Here's the language that will be sent to Congress:
As your constituent, I urge you to take action to end American complicity in the Saudi-led war in Yemen. We cannot sit by while our government increases suffering in a country devastated by conflict, cholera, and famine. I strongly urge you to co-sponsor and support the House War Powers Resolution introduced by Rep. Ro Khanna. The privileged resolution would end U.S. military involvement in the Saudi-led war in Yemen.
After signing the petition, please use the tools on the next webpage to phone your Representative and to share the petition with your friends.
This work is only possible with your financial support. Please chip in $9 now.
As World BEYOND War members and few others are aware, Congress has no power to legalize a war, as war is illegal under the U.N. Charter and the Kellogg-Briand Pact. But Congress does have the power to stop a war and to do so quickly. Many lives are in the balance.
Please forward this email to everyone you can.
Please share this action on Facebook and Twitter.
In your opinion, what mechanism can be defined so that peoples, peacekeepers and anti-war institutions around the world to work together to bring the voice of the people seeking peace to the world?
WE'RE BEGINNING WITH ASKING THE WHOLE WORLD TO SIGN THIS HTTP://WORLDBEYONDWAR.ORG/INDIVIDUAL
PGSC: Do you agree that a joint commission of anti-war and peace-support NGOs in the world will be formed and receive a prize under the same title and will appeal to popular activists around the world who volunteering to fight militant politicians Due to lack of state financial support, they cannot make their voices heard to the world?
YES THAT IS EXACTLY WHAT IS NEEDED, AND WE'RE WORKING ON IT AND WOULD LOVE TO WORK TOGETHER ON IT.
PEACE,
DAVID SWANSON
PGSC: Thanks again for letting us know from your point of view, and in hope of more discussions.at the end, if you have any suggestions or, please let us know.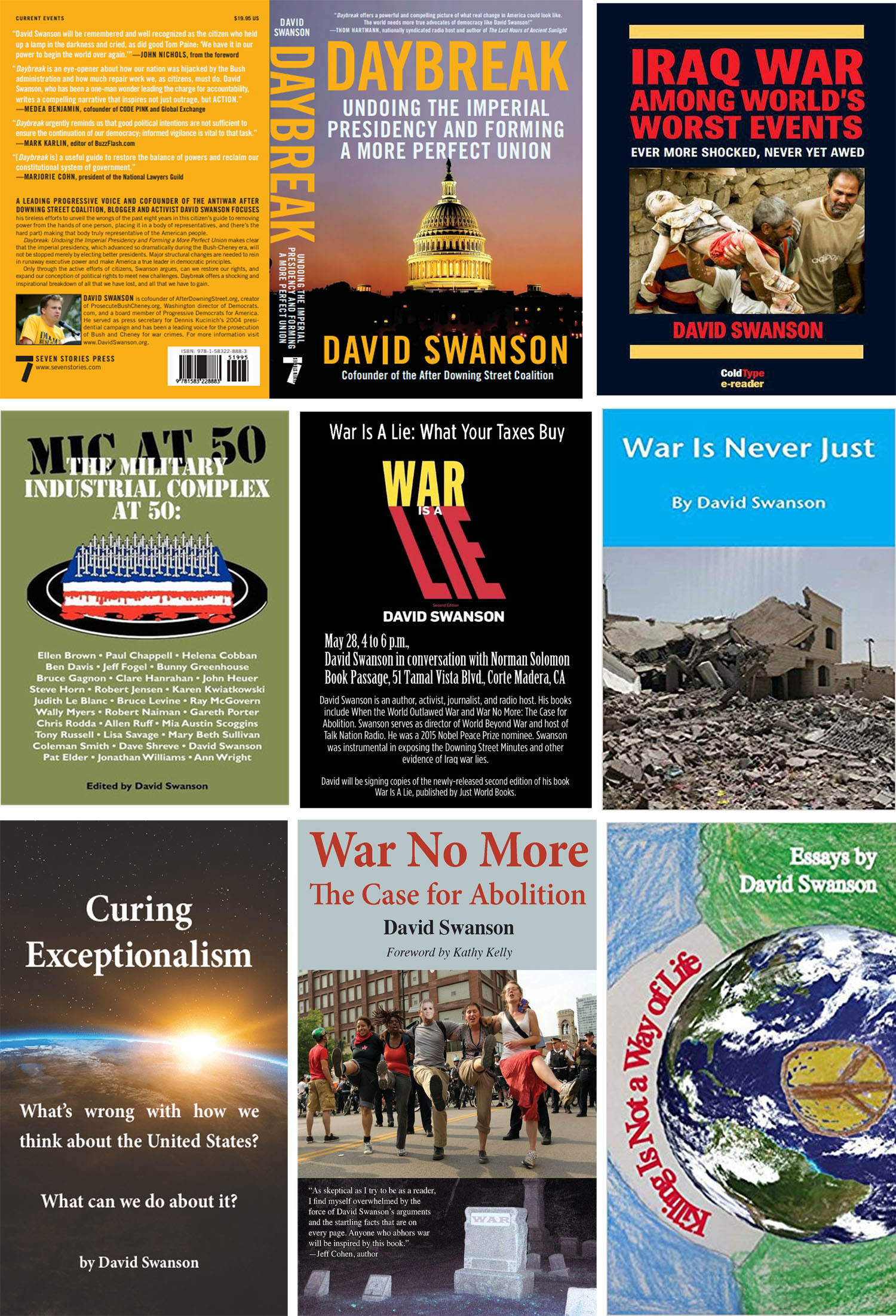 Some published books by David Swanson, Director of the World BEYOND War